A Good Start
Better could that day hardly start: Sunshine and a huge buffet at the hotel. After I had breakfast I went to the Start. I was right in the first starting group after the top athletes,which means that I was allowed to start 9:05. About half an hour before the start, I was a bit late, I heard the great news: wetsuit are allowed!
In the race meeting on the day before, they told us that the water could be too hot for wetsuits and actually the later starters were not allowed to wear a wetsuit. Fortunately I started early and was allowed to swim with a wetsuit, because I learned crawl swimming just six months ago – and these suits help a lot.
15.06.2014 9:05 – Swim!
So I put on my wetsuit and went into the water. After the top athletes were started, we were allowed to swim to the imaginary starting line, which was between two buoys, monitored by race marshals on canoes.
The Challenge starts traditionally with "Hells Bells" by "AC/DC", and as the bells rang, my pulse rises markedly. Then suddenly a bang and the race started.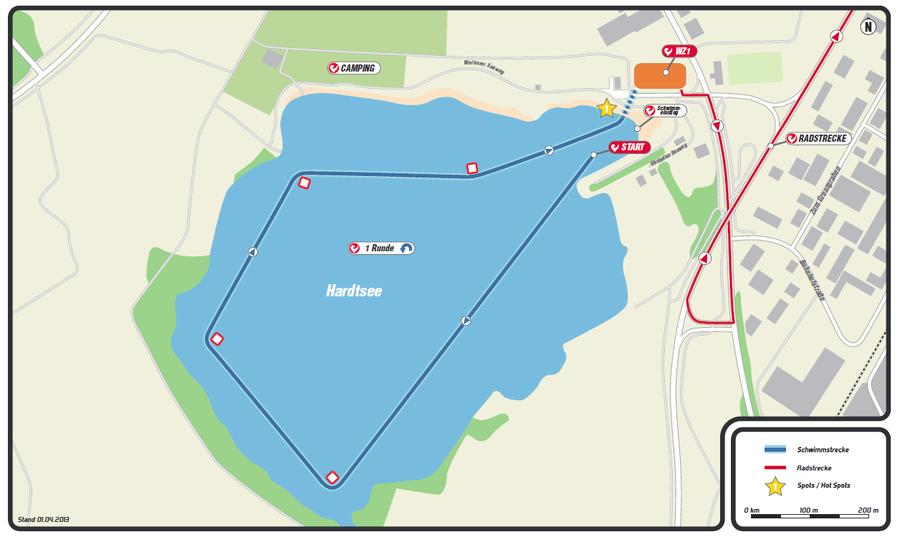 I've never swum so far in a lake. Most of the time I've trained in winter I could only swim in a hall and there you have clear warm water and can stop every 25 m. But I really enjoyed it, the water was pleasant and although I had some difficulties with the orientation, I came after 45 minutes out of the water. A little surprised by my own power, I went into the transition area and changed my clothes for cycling.
Overtake and be Overtaken when Overtaking – the Cycle Race
On the bike I was able to overtake some athletes again, who had overtaken me while swimming. Then it happened: Shortly after the tenth kilometer was a steep right turn and I fell down. Luckily it was not that bad: some scratches on the leg. I got back on my bike and drove on.
At the race meeting was repeatedly told that the bike course is one of the best ever and they were right: It was a beautiful course between fields and forests on a good street.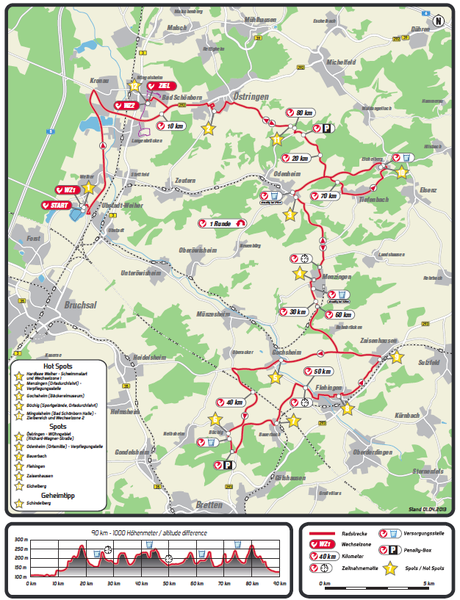 And then the crowd: They stood on every mountain and cheered for us. I was so happy that I've partially been crying. 😀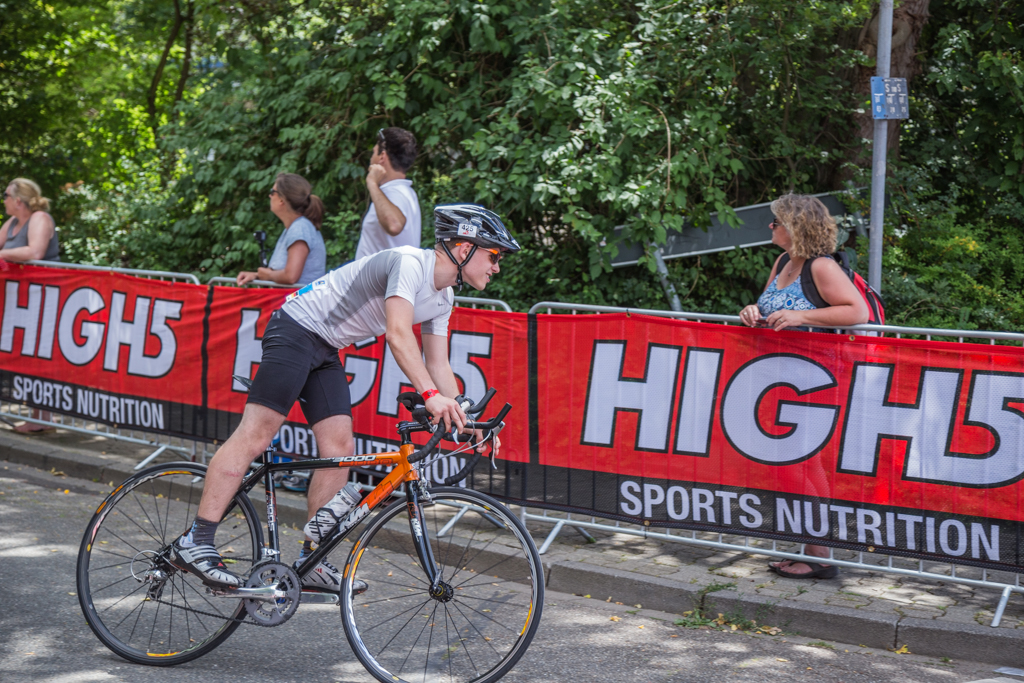 Surprised again by my performance with under 3.30 h for a track with 90 kilometers and over 1.000 altitude meter, I went into the transition area and put on my running shoes.
Run, Justus, run!
I started running, as the first woman, Julia Gajer, finished the race.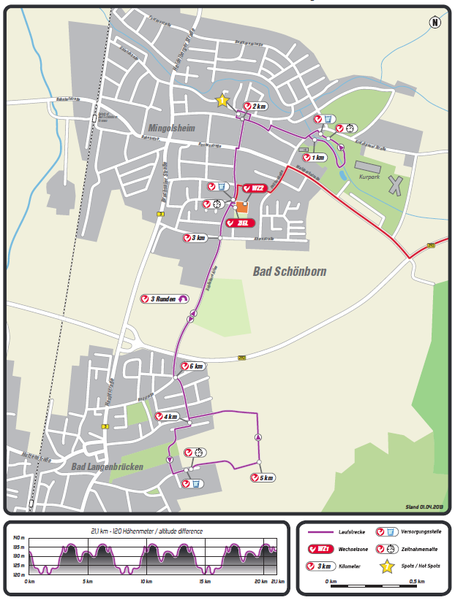 There were three rounds and I had to go a few times, because of some pain in my legs or chest. But the helpers and other runners motivated me again and again: In addition to water, cola-mix, iso-drinks, bananas, bars and gels wet sponges were served, which you could wring out over your body – a true joy at temperatures around 25 °C.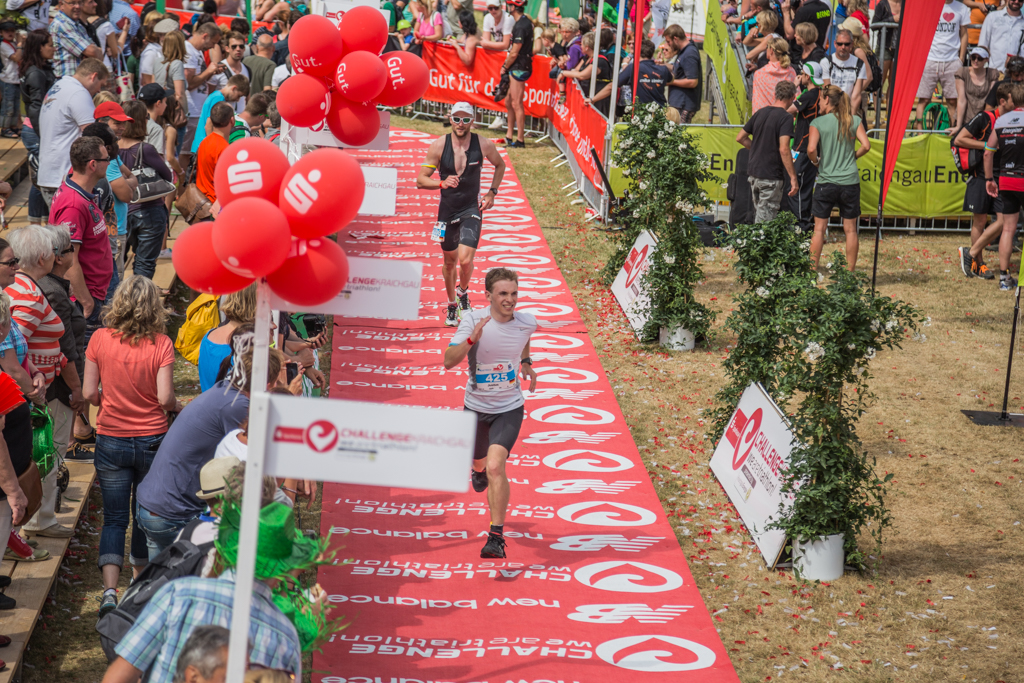 I'm done!
My personal goal for my very first triathlon was to get under 7 hours, but I crossed the finish line after 6:31:15 – what makes me still totally happy and also a bit proud.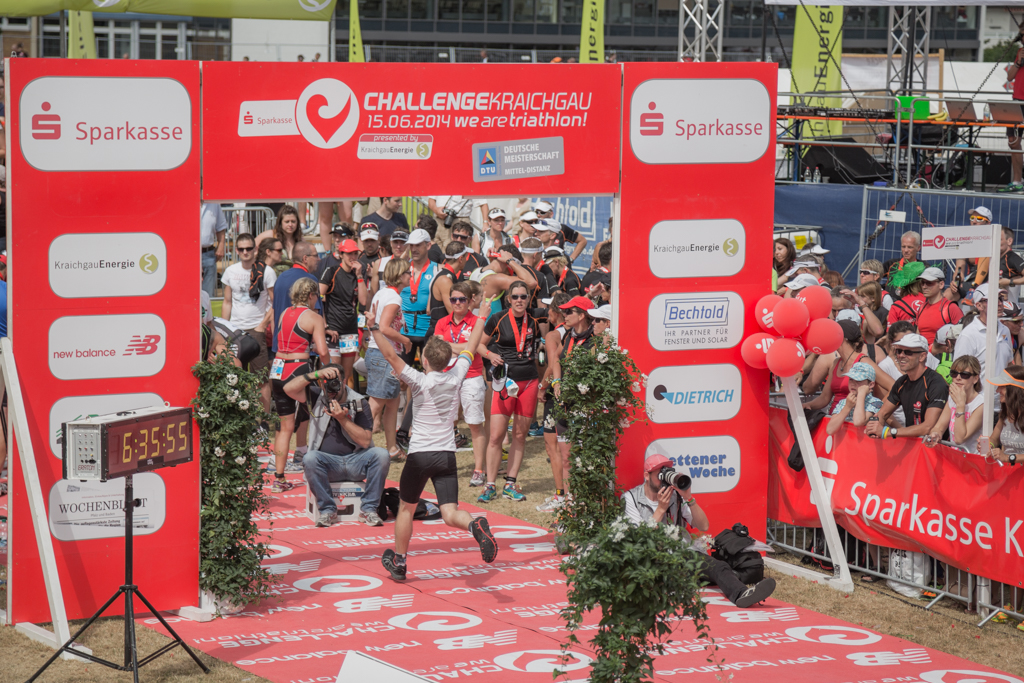 At this point a huge thank you to everyone who made ​​this day possible: the swimming hall where I learned crawl swimming; my triathlon club (triathlon-freiberg.de) where I met like-minded and trained with them, the organization with the helpers who ensured a smooth flow in the race; this nice guy, who checked my bike before the race; the audience, which cheered me tirelessly and of course my personal helpers, who drove me to Kraichgau and supported me where they could.
This entry was posted in
Sports